Technische Ressourcen
RA330® Alloy Grids

Providing spheroidized, normalizing and annealing services to the manufacturing industry, Ajax Metal Processing used the traditional cast HT alloy grid in the annealing process. Their well-known process involves heating of steel rod coils in a nitrogen atmosphere reaching temperatures of roughly 815.56°C followed up by a controlled cooling process.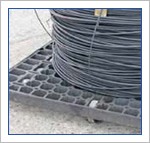 Traditionally a cast grid was expected to last for 18 to 24 months before urgent repairs were required. After 12 months cracking would be visible, which could lead to segments breaking away from the trays. Cast heat resistant alloys are vulnerable to brittle fracture from rough handling or thermal cycling. Which is why a leading heat resistant alloy fabricator proposed a new design using RA330® alloy to improve performance.
Increased Lifespan
Unlike cast HT, RA330® has a carbon content of 0.05% and is manufactured to its grain size which increases its resistance to cracking from thermal cycling. The alloy is also resistant to sigma phase formation. Therefore, even after long periods of time being exposed to temperatures reaching 815.56°C RA330® retains its ductility, which increases its lifetime through restraightening and maintenance.
Supplying Many RA330® Products
RA330® is an alloy made up of 35% nickel, 19% chromium and 1.25% silicon. Its excellent resistance to thermal shock and carburization has made it an integral alloy within the heat-treating industry. NeoNickel stocks an extensive range of RA330® product forms including pipe, bar, structural shapes and many more.
To buy RA330® or to learn more about this alloy contact us!

Save