Technické zdroje
Working With Titanium Alloys

When it comes to machinability titanium and stainless steel share many similarities, but machinability decreases when there is a higher alloy content. If the characteristics of titanium and its alloys are taken into account there should be few difficulties during the process of machining.
Using sharp tools, suitable coolants and the use of slow speeds heavy feeds make cutting titanium a simple process.
Titanium has a low thermal conductivity, which, during the cutting process, results in chips welding to the cutting edges of the tool. Increasing the wear on the tool, it's advised to use each tool to its maximum capacity. Using suitable coolant to reduce cutting temperature can lengthen tool life. However avoid using coolants containing bromine, chlorine, fluorine and iodine!
Turning
Both pure and alloyed titanium can be turned easily. To achieve the best results use carbide tools for the process, in particular carbides such as C-91. Tantung, Rexalloy and Stellite may also be used to achieve the best results possible.
Drilling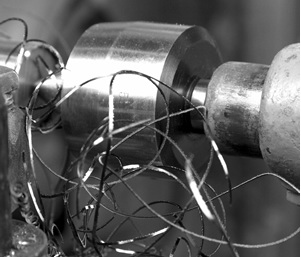 A normal high-speed steel drill can be used to achieve the perfect finish when drilling titanium alloys. During this process it's important to consider the length of the unsupported section of the drill, it shouldn't be any longer than the required length needed to drill the depth of the hole, enabling the chips to flow out the hole effectively without damaging or breaking the drill.
Tapping
Chip removal makes tapping titanium one of the most difficult machining operations. However the process is made a lot easier using a gun-type tap, pushing the chips ahead of the tap! Another problem that can occur, tap freezing or binding in the hole, is caused when titanium smears on the land of the tap and sulfurized and chlorinated cutting oils are recommended to prevent this from happening.
Grinding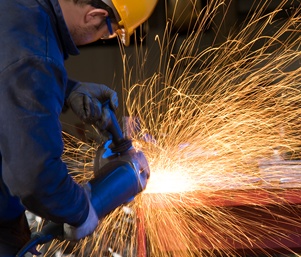 To speed up the process of grinding titanium a perfect combination of grinding fluid, abrasive wheel and wheel speeds should be used. Using alundum and silicon carbide wheels at lower speeds along with a sodium nitrite mixture will help achieve the best finish possible.
Sawing
To achieve the best results possible when sawing titanium apply constant pressure from the blade along with a slow speed.
After each process it's important to remove all cutting oils thoroughly using the solvent methyl-ethyl-ketone. Low flash cutting oils should be avoided at all costs, high heat is generated, which can cause the oil to ignite. Instead use water-soluble oils.
Here at NeoNickel we continue to invest in the most up to date metal cutting technology and techniques allowing us to provide a number of services suitable for a wide range of industries. So if you'd like to benefit from our Bar Sawing, Laser Cutting or any other processes that we offer at our state of the art, purpose built facilities then feel free to get in touch today. Contact us now or get in touch via Twitter!