Technical Resources
ZERON® 100 FastenersPièces de fixation en ZERON® 100

Introduction
Regularly used for pipework systems carrying corrosive fluids, ZERON® 100 corrosion resistant fasteners are used when corrosion of the flange bolts occurs. As a fastener ZERON® 100 is available in three different grades. It is available as fasteners in the solution annealed form, FG grade and FLT grade. The FG and FLT grades have a higher yield and tensile strength in comparison to the solution annealed form which is a more cost effective procedure for manufacturing headed fasteners. This is mainly down to the fact that solution annealed bolts can be headed by a forging process followed by solution annealing, whereas FG and FLT grades are produced and machined from bar.
Applications
Carbon or low alloy steel bolts can be used with ZERON® 100 flanges, however corrosion will occur because of the galvanic couple between the steel and ZERON® 100, especially if used in a corrosive environment. Regularly used in submerged marine applications, ZERON® 100 has excellent resistance to corrosion in seawater.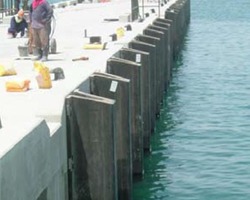 Coatings can be applied to protect carbon or low alloy steel bolts. However when coupled with ZERON® 100 in chloride solutions metallic coatings will corrode quickly. Therefore coatings must be thin to be effective on fasteners, which can be easily damaged. The galvanic couple with ZERON® 100 can cause serious corrosion to uncoated bolts, which is why ZERON® 100 resistant bolts should be used.
In chloride environments electrical isolation is sometimes attempted using isolation flanges and bolts with non-metallic sleeves. These can be easily damaged which can lead to the electrical isolation being lost before galvanic corrosion occurring. Connection of the piping to a common earth can also reduce the efficiency of an isolation flange, however ZERON® 100 corrosion resistant bolts can eliminate this problem.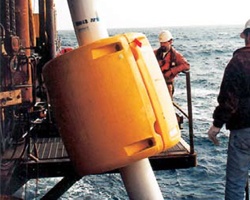 During subsea use fasteners will be exposed to the cathodic protection which is applied to all of the structure. Major concern has been expressed regarding the potential for hydrogen embrittlement of duplex stainless steel fasteners. 25% of Cr duplex stainless steels fasteners under cathodic protection have failed. However high strength has been achieved by ageing, which has shown to greatly increase the susceptibility of duplex stainless steels to hydrogen embrittlement. Light cold work helps to achieve the high strength of ZERON® 100 FG and FLT grades. Research indicates that the threshold strength for the initiation of hydrogen embrittlement cracks is close to 0.2% proof stress and it is advised loading bolts are between 60% and 70% of the proof stress. It's at these levels that hydrogen embrittlement cracking will not occur.
ZERON® 100 fasteners can also be used with high alloy, corrosion resistant alloys as well as ZERON® 100 pipes and flanges. They have been used in a wide variety of applications where corrosion resistance is vital. ZERON® 100 has been used to attach buoyancy modules on subsea risers, anchor rubber fenders to concrete docks in a Middle East harbor and attach cast sections of tunnel lining to the London Underground.
Galling
Commonly associated with stainless steels galling is less of a problem with more highly alloyed austentic and duplex alloys. ZERON® 100 bolts have been used in submarine pumps for a number of years and it is common practice to coat fasteners with ~6μm of copper. This makes the task of dismantling the pumps for servicing a lot easier. Successful use has been reported during critical applications. Molybdenum disulphide lubricant should be avoided during increased temperatures services.
Conclusion
ZERON® 100 fasteners provide a corrosion resistant bolting material formulated to overcome the galvanic corrosion problems commonly associated with less corrosion resistant fastener materials like carbon steel.
If you'd like more information on ZERON® 100 Fasteners or any other products we stock here at NeoNickel then feel free to contact us today!
Introduction
Régulièrement utilisées pour les réseaux de conduites transportant des fluides corrosifs, les pièces de fixation résistantes à la corrosion en ZERON® 100 servent là où les boulons des brides sont exposés à la corrosion. Le ZERON® 100 des pièces de fixation est disponible dans trois nuances différentes. Il est disponible sous forme de pièces de fixation à l'état recuit de mise en solution, et aussi dans les nuances FG et FLT. Les nuances FG et FLT ont une meilleure limite d'élasticité et une meilleure résistance à la traction par rapport à la version à l'état recuit de mise en solution plus économique en termes de fabrication de pièces de fixation à tête. Ceci est principalement lié au fait que les boulons à l'état recuit de mise en solution peuvent être munis d'une tête par forgeage suivi d'un recuit de mise en solution, tandis que les nuances FG et FLT sont produites et usinées à partir de barres.
Applications
Les boulons en acier au carbone ou faiblement allié peuvent être utilisés avec des brides en ZERON® 100, mais il y aura de la corrosion à cause du couple galvanique entre l'acier et le ZERON® 100, particulièrement en cas d'utilisation en environnement corrosif. Régulièrement utilisé pour des applications sous-marines, le ZERON® 100 présente une excellente résistance à la corrosion en eau de mer.
Des revêtements peuvent être appliqués pour protéger les boulons en acier au carbone ou faiblement allié. Néanmoins, avec des pièces de fixation en ZERON® 100 dans des solutions de chlorure, les revêtements métalliques se corroderont rapidement. Les revêtements doivent donc être minces pour être efficaces sur les pièces de fixation et ils peuvent être facilement endommagés. Le couple galvanique avec le ZERON® 100 peut corroder gravement les boulons sans revêtement, et c'est pourquoi il faut utiliser des boulons résistants au ZERON® 100.
Dans les environnements au chlorure, on tente parfois d'obtenir une isolation électrique en utilisant des brides d'isolation et des boulons avec des manchons non métalliques. Mais ces protections peuvent facilement se trouver endommagées, ce qui peut faire perdre l'isolation électrique et entraîner une corrosion galvanique. Le raccordement de la tuyauterie à une prise de terre commune peut aussi réduire l'efficacité de la bride d'isolation. Néanmoins, les boulons résistants à la corrosion en ZERON® 100 peuvent éliminer ce problème.
En utilisation sous-marine, les pièces de fixation seront exposées à la protection cathodique appliquée à l'ensemble de la structure. Des inquiétudes majeures ont été exprimées quant au risque de fragilisation par l'hydrogène des pièces de fixation en acier inoxydable duplex. 25 % des pièces de fixation en acier inoxydable duplex Cr sous protection cathodique ont connu des défaillances. Néanmoins, une résistance élevée a été obtenue par vieillissement dont il s'est avéré qu'il rendait les aciers inoxydables duplex beaucoup plus susceptibles d'être fragilisés par l'hydrogène. Le travail à froid léger aide à obtenir la résistance élevée des nuances ZERON® 100 FG et FLT. La recherche a montré que le seuil de résistance pour commencer à voir apparaître des fissures dues à la fragilisation par l'hydrogène est proche de la limite conventionnelle d'élasticité à 0,2 % et il est conseillé que les boulons de charge soient entre 60 % et 70 % de cette limite conventionnelle d'élasticité. Ce sont les niveaux auxquels la fragilisation par l'hydrogène ne surviendra pas.
Les pièces de fixation en ZERON® 100 peuvent aussi être utilisées avec des matériaux fortement alliés et résistants à la corrosion ainsi qu'avec des tuyaux et des brides en ZERON® 100. Elles ont été utilisées pour une grande variété d'applications où la résistance à la corrosion est essentielle. Le ZERON® 100 a été utilisé pour fixer les modules de flottabilité sur des risers sous-marins, pour ancrer des défenses en caoutchouc à des quais en béton dans un port du Moyen-Orient et pour fixer les sections coulées des revêtements de tunnels du métro londonien.
Grippage
Généralement lié aux aciers inoxydables, le grippage est moins problématique avec les alliages plus fortement alliés austénitiques et duplex. Les boulons en ZERON® 100 sont utilisés dans les pompes sous-marines depuis plusieurs années et une pratique courante consiste à appliquer un revêtement de ~6 μm aux pièces de fixation pour le cuivre. Il est ainsi beaucoup plus facile de démonter les pompes pour les réparations. Le feedback a été positif pour des applications critiques. Il faut éviter les lubrifiants au bisulfure de molybdène si les températures d'exploitation sont élevées.
Conclusion
Les pièces de fixation en ZERON® 100 permettent d'avoir une boulonnerie résistante à la corrosion dans un matériau conçu pour apporter une solution aux problèmes de corrosion galvanique généralement liés aux matériaux d'éléments de fixation moins résistants à la corrosion comme l'acier au carbone.
Si vous désirez plus d'informations sur les pièces de fixation en ZERON® 100 ou d'autres produits que nous avons en stock chez NeoNickel, n'hésitez pas à nous contacter dès aujourd'hui !