Technical Resources
ZERON® 100 – Used To Extend The Lifespan Of The Thames Barrier

The Thames Barrier in Greenwich, London, was originally constructed in the 1980s to prevent flooding of London at high tides. Consisting of 6 piers, each with a raisable barrier, the bridge has been raised 64 times since it was opened in 1982. Recently ZERON® 100 super duplex stainless steel was used to extend its lifespan!
ZERON® 100's high corrosion resistance makes it extremely desirable for this process…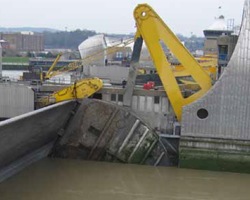 The barrier is raised using a hydraulic system that involves trunnions running along a pair of tracks fastened around the sides of the barrier. Originally constructed from carbon steel with a coating constant rolling of the wheels and regular exposure to estuarine water the coating was removed and rolling contact corrosion fatigue was caused. Therefore, after months of planning, it was decided ZERON® 100 superduplex stainless steel would be used instead. Its high corrosion resistance in seawater and high hardness to resist wear made it extremely desirable.
A milling machine fastened to a jig between the tracks was used to remove the old tracks. 30mm thick and 70mm wide the new tracks were cut from ZERON® 100 plate and manually welded to the carbon steel using SS 309L filler wire.
Expected to last over 60 years…
After welding a marine grade epoxy paint was applied to the carbon steel around the tracks for added protection. The replacement tracks were installed over a period from 2002-2007 and the barrier is expected to continue to provide London with protection from flooding until at least 2080.
For more information on ZERON® 100 or If you'd like to purchase this alloy feel free to contact us today.