Technische hulpbronnen
ZERON® 100 – Used To Extend The Lifespan Of The Thames BarrierZERON® 100 – Projet sur la Tamise

The Thames Barrier in Greenwich, London, was originally constructed in the 1980s to prevent flooding of London at high tides. Consisting of 6 piers, each with a raisable barrier, the bridge has been raised 64 times since it was opened in 1982. Recently ZERON® 100 super duplex stainless steel was used to extend its lifespan!
ZERON® 100's high corrosion resistance makes it extremely desirable for this process…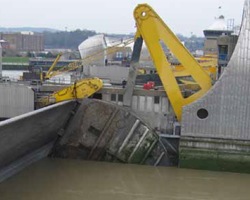 The barrier is raised using a hydraulic system that involves trunnions running along a pair of tracks fastened around the sides of the barrier. Originally constructed from carbon steel with a coating constant rolling of the wheels and regular exposure to estuarine water the coating was removed and rolling contact corrosion fatigue was caused. Therefore, after months of planning, it was decided ZERON® 100 superduplex stainless steel would be used instead. Its high corrosion resistance in seawater and high hardness to resist wear made it extremely desirable.
A milling machine fastened to a jig between the tracks was used to remove the old tracks. 30mm thick and 70mm wide the new tracks were cut from ZERON® 100 plate and manually welded to the carbon steel using SS 309L filler wire.
Expected to last over 60 years…
After welding a marine grade epoxy paint was applied to the carbon steel around the tracks for added protection. The replacement tracks were installed over a period from 2002-2007 and the barrier is expected to continue to provide London with protection from flooding until at least 2080.
For more information on ZERON® 100 or If you'd like to purchase this alloy feel free to contact us today.La Barrière de la Tamise à Greenwich, Londres, a initialement été construite dans les années 1980 pour protéger Londres contre les inondations à marée haute. Constituée de 6 piliers, chacun avec une écluse, la barrière a été levée 64 fois depuis sa mise en service en 1982. Récemment, l'acier inoxydable super duplex ZERON® 100 a été utilisé pour prolonger sa durée de vie !
La barrière est levée grâce à un système hydraulique qui implique des pivots se déplaçant le long de deux rails de roulement fixés sur les côtés de la barrière. À l'origine en acier au carbone, avec enduction constante des roues, mais du fait de l'exposition régulière aux eaux de l'estuaire le revêtement était enlevé et les roues subissaient une usure par corrosion de contact. Par conséquent, après plusieurs mois de planification, il a été décidé d'utiliser plutôt de l'acier inoxydable super duplex ZERON® 100. Sa haute résistance à la corrosion en eau de mer et sa dureté élevée lui confèrent une résistance à l'usure extrêmement appréciable.
Une fraiseuse fixée à un dispositif de serrage entre les rails de roulement a été utilisée pour enlever les anciens rails de roulement. Les nouveaux rails de roulement de 30 mm d'épaisseur et 70 mm de largeur ont été découpés dans des plaques de ZERON® 100 et soudés manuellement à l'acier au carbone au moyen de fil d'apport SS 309L.
Après le soudage, une peinture époxy de qualité marine a été appliquée sur l'acier au carbone autour des rails de roulement à titre de protection supplémentaire. Les nouveaux rails de roulement ont été installés entre 2002 et 2007 et la barrière doit continuer de protéger Londres contre les crues au moins jusqu'en 2080.
Pour obtenir plus d'informations sur le ZERON® 100 ou si vous désirez acheter cet alliage, n'hésitez pas à nous contacter dès aujourd'hui !