Recursos técnicos
Swimming Pools – ZERON® 100 ZERON® 100 – Piscines

Introduction
Recently there has been a dramatic rise in the use of brines in swimming pools. Possessing a disinfectant quality and electrolytically generating chlorine to provide disinfection the chloride content is much higher than older style pools. Therefore the water is more corrosive towards a lot of materials.
Stainless steels are often used for fittings in pools because they are easy to clean and corrosion resistant, which is extremely desirable. However, with added levels of chloride content common grades of stainless including 316L are exposed to corrosion.
300 series austenitic stainless steels have also been used for other uses including wire, bolts and bars to support swimming pool roofs. However these alloys are no longer desirable following several major failures.
Below describes the laboratory testing of ZERON® 100 superduplex stainless steel in both seawater and the swimming pool roof environment. We've included some service experiences.
The Alloy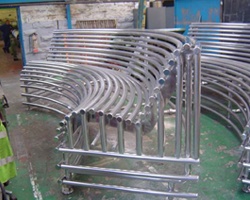 50% ferrite and 50% austentine ZERON® 100 superduplex stainless steel has the benefits of austenitic microstructure and those of the ferritic microstructure.
Compared to other stainless steels ZERON® 100 has high levels of chromium, molybdenum and nitrogen which gives excellent resistance to localized attack in presence of chlorides. Typically, this is assessed by the pitting resistance equivalent number, PREN, where PREN = %CR + 3.3 X % MO + 16 X %N. The minimum PREN of 40 for ZERON® 100 ensures a high resistance to localised attack in chloride solutions.
Manufactured by a variety of processes ZERON® 100 is available as castings and as wrought pipes, fittings, plate, bar, fasteners and forgings. It's also available as a lightly cold worked bar in the FG condition where higher strength is required. This has similar mechanical properties to B7 steel, with the minimum mechanical properties being 725 MPa 0.2% proof stress and 860 MPa tensile strength.
ZERON® 100 can be welded using all the common arc welding processes and can be welded with ZERON® 100M consumables, where post weld heat treatment is to be carried out. It is most commonly welded with ZERON® 100X overalloyed consumables, for use in the as-welded condition. ZERON® requires lots of care during welding and it's to use qualified welders who are qualified and use approved procedures.
Corrosion Resistance
Seawater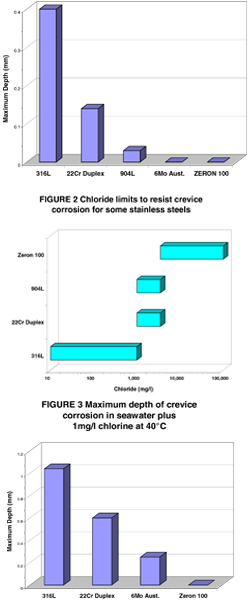 Typically swimming pools are chlorinated and the resistance to crevice corrosion of stainless steel in this environment has undergone numerous assessments. Results show the maximum depth of attack for several stainless steels in chlorinated seawater at 16°C, whilst alloy 904L generally suffers crevice corrosion to a lesser depth than 22% Cr duplex.
The Corrosion Engineering Guide can be used to calculate the maximum chloride content before crevice corrosion which can become a serious problem. Even at normal temperature 316L has a limited tolerance to chlorides. 904L and 22% Cr duplex can both be used in brackish waters, whilst only superduplex can be used where higher chloride content occurs. Usually seawater has around 18,000 to 25,000 mg/l chloride and the limits of 6% Mo austenitic stainless steel are comparable to those of ZERON® 100.
The susceptibility of stainless steels to crevice corrosion increases with rises in temperature. Results indicate the maximum depth of crevice corrosion for a number of stainless steels in chlorinated seawater is 40°C, whilst ZERON® 100 was resistant to attack.
Stress Corrosion Cracking
Stress Corrosion Cracking is usually seen at elevated temperatures when stainless steels are exposed to chlorides. However, a number of swimming pool roofs erected using 300 series stainless steel bolts and wire failed after a period of time which led to a number of investigations. The presence of chlorine in the water resulted in strong solutions condensing on the metal supports in the swimming pool roof and a low pH could develop. Results indicate that 316L stainless steel would be subject to stress corrosion cracking in measured condensed waters.
Studies show that 316L suffered corrosion cracking after 7 days of exposure to a simulated condensed water. The same test was done for ZERON® 100, during which no stress corrosion cracking was present.
Service Experience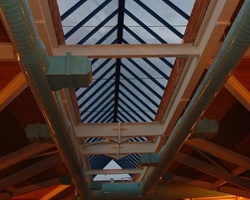 With a low corrosion rate ZERON® 100 has been used for a number of fittings in seawater and high chloride brine swimming pools. ZERON® 100 bolts have also been used to fasten and secure a wide range of pool furniture in place.
Conclusions
Resisting corrosion in chlorinated swimming pools up to 40°C ZERON® 100 offers high strength and corrosion resistance superior to that of 316L austenitic stainless steel. Chloride stress corrosion cracking also occurs under the high chloride/low pH solutions that can condense and damage swimming pool roofs.
For more information on using ZERON® 100 for in swimming pools and other applications feel free to contact us today! ZERON® 100 is available in various formats and a number of finishes can be applied to achieve the products you desire.

Introduction
Il y a eu ces derniers temps une très forte croissance de l'utilisation d'eau salée dans les piscines. Si la présence de sel permet la désinfection grâce à la production électrolytique de chlore, la teneur en chlorure est bien plus élevée que dans les piscines traditionnelles. Par conséquent, l'eau est plus corrosive pour de nombreux matériaux.
Les raccords utilisés dans les piscines sont souvent en acier inoxydable car ce matériau est facile à nettoyer et résistant à la corrosion, ce qui est un atout important. Néanmoins, en présence d'une plus forte concentration de chlorures, les nuances ordinaires d'acier inoxydable, y compris le 316L, sont exposées à la corrosion.
Les aciers inoxydables austénitiques de la gamme 300 sont aussi affectés à d'autres usages, comme les câbles, boulons et barres de soutien des toits de piscine. Mais ces alliages sont désormais à éviter en raison de plusieurs défaillances majeures.
Vous trouverez ci-dessous la description des essais en laboratoire de l'acier inoxydable super duplex ZERON® 100 immergé dans l'eau de mer et utilisé dans un environnement de type toit de piscine. Nous décrivons aussi certaines expériences d'exploitation.
L'alliage
L'acier inoxydable super duplex ZERON® 100 à 50 % de ferrite et 50 % d'austénite combine les avantages de la microstructure austénitique et ceux de la microstructure ferritique.
Par rapport aux autres aciers inoxydables, le ZERON® 100 a des niveaux élevés de chrome, de molybdène et d'azote qui lui confèrent une excellente résistance aux attaques localisées en présence de chlorures. Cela est généralement évalué par l'équivalent de résistance à la piqûration, PREN, sachant que PREN = % CR + 3,3 x % + 16 x % N. Le PREN de 40 minimum du ZERON® 100 garantit une résistance élevée aux attaques localisées dans les solutions de chlorure.
Fabriqué au moyen de différents procédés, le ZERON® 100 est disponible sous forme de pièces coulées, de tubes en acier forgé, de raccords, de plaques, de barres, de pièces de fixation et de pièces forgées. Il est aussi disponible sous forme de barres légèrement écrouies dans la nuance FG lorsqu'une résistance plus élevée est nécessaire. Cet acier a des propriétés mécaniques similaires à celles de l'acier B7 : au minimum 725 MPa pour la limite conventionnelle d'élasticité à 0,2 % et 860 MPa pour la résistance à la traction.
Le ZERON® 100 peut être soudé avec tous les procédés habituels de soudage à l'arc et il peut être soudé avec des consommables ZERON® 100M lorsqu'un traitement thermique après soudage doit être mené à bien. Il est généralement soudé avec des consommables sur-alliés ZERON® 100X pour un usage à l'état brut de soudage. Il est nécessaire de faire preuve d'une grande attention lors du soudage du ZERON® 100 et les soudeurs doivent être dûment qualifiés et suivre les procédures approuvées.
Résistance à la corrosion
Eau de mer
Les piscines sont généralement chlorées et la résistance à la corrosion caverneuse de l'acier inoxydable dans cet environnement a fait l'objet de nombreuses évaluations. Les résultats montrent une profondeur maximale des attaques pour différents aciers inoxydables dans l'eau de mer chlorée à 16° C2. L'alliage 904L subit généralement une corrosion caverneuse moins profonde que l'acier duplex à 22 % Cr.
Le guide Corrosion Engineering Guide permet de calculer la teneur maximale en chlorure pour éviter la corrosion caverneuse qui peut devenir un problème grave. Même aux températures normales, le 316L a une tolérance limitée aux chlorures. Le 904L et le duplex à 22 % de Cr peuvent tous deux être utilisés en eau saumâtre mais seul le super duplex peut être utilisé en présence de concentrations plus élevées de chlorures. L'eau de mer a en général entre 18 000 et 25 000 mg/l de chlorure et les limites de l'acier inoxydable austénitique à 6 % de Mo sont comparables à celles du ZERON® 100.
La vulnérabilité des aciers inoxydables à la corrosion caverneuse augmente avec la température. Les résultats montrent que la profondeur maximale de la corrosion caverneuse pour un certain nombre d'aciers inoxydables dans l'eau de mer chlorée est de 40° C2, tandis que le ZERON® 100 présentait une résistance aux attaques.
Corrosion fissurante sous tension
La corrosion fissurante sous tension est généralement observée à des températures élevées lorsque les aciers inoxydables sont exposés aux chlorures. Cependant, plusieurs toits de piscine érigés avec des boulons et des câbles en acier inoxydable de la gamme 300 ont connu des défaillances et des enquêtes ont été menées. La présence de chlore dans l'eau entraînait une forte condensation de solutions sur les supports métalliques du toit de la piscine et un pH faible pouvait alors se développer. Les résultats indiquent que l'acier inoxydable 316L subissait une corrosion fissurante sous tension dans les eaux condensées mesurées.
Les études montrent que le 316L présentait une fissuration par corrosion après 7 jours d'exposition à une eau condensée simulée. Le même test a été réalisé pour le ZERON® 100, qui n'a quant à lui subi aucune corrosion fissurante sous tension.
Expérience d'exploitation
Grâce à sa faible corrosion, le ZERON® 100 est utilisé pour des raccords immergés en eau de mer et dans des piscines avec de l'eau fortement salée. Les boulons en ZERON® 100 sont aussi utilisés pour fixer et sécuriser un large éventail d'accessoires de piscine.
Conclusions
Résistant à la corrosion jusqu'à 40°C dans les piscines avec de l'eau chlorée, le ZERON® 100 offre une tenue mécanique élevée et une résistance à la corrosion supérieure à celle de l'acier inoxydable austénitique 316L. La corrosion fissurante sous tension par les chlorures est aussi limitée en présence des solutions à forte teneur en chlorures/pH réduit qui peuvent se condenser et endommager les toits des piscines.
Pour obtenir plus d'informations sur l'utilisation du ZERON® 100 dans les piscines et pour d'autres applications, n'hésitez pas à nous contacter dès aujourd'hui ! Le ZERON® 100 est disponible sous différentes formes. De nombreuses finitions peuvent être appliquées pour obtenir le produit que vous attendez.