New Grinding and Dust Control System at NeoNickel Blackburn

We've recently installed a brand new grinding and dust control system at NeoNickel Blackburn.
The system includes two Q-Fin grinding machines, as well as a 30-m long duct system which extracts metal dust from the warehouse environment.
How does it work?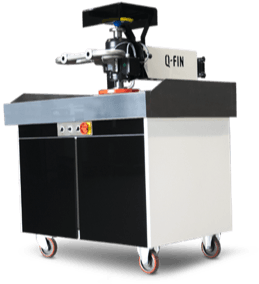 The first, smaller Q-Fin machine is used for grinding material that has a maximum dimension of 200mm. The machine has multiple rotating brushes as well as a sand belt, which automatically deburrs rough edges and dresses material surfaces.
The introduction of automation allows for much quicker dressing operation – between 20-70 parts per minutes, depending on the size and surface finish!
The second Q-Fin machine is larger and therefore can accommodate larger parts up to 700mm x 1000mm. This semi-automatic machine allows more freedom of movement and human intervention when deburring larger, thicker or randomly shaped parts without compromising operational efficiency.
Our team at NeoNickel Blackburn are thrilled with our new grinding and dust control system. We always strive to find new ways to improve efficiency and our new Q-Fin Machines are another example of how we achieve this.