Our Guide To Nickel Alloys

Highly versatile and possessing fantastic heat and corrosion resistance nickel is a material used by a wide range of industries. Its ability to alloy with most other metals means it can be used in a diverse range of applications from steam turbines in power plants to regular use in the medical and nuclear power industries.
High Performance
As a leading supplier of nickel alloys across Europe the materials we provide are of the highest quality. Nickel is one of the highest performing materials that we work with here at NeoNickel and it offers the utmost strength, durability and reliability when exposed to the harshest of environments. Corrosion and heat resistant nickel is a material that is readily weldable even in a hardened condition.
Large Range of Alloys Suitable For Harsh Environments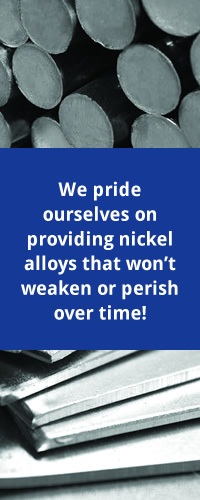 Here at NeoNickel we are well known for our large inventory of nickel alloys, all of which are of the highest quality and suitable for various applications. We pride ourselves on providing nickel alloys that won't weaken or perish over time, ensuring your business won't have to fork out more money in the long run on replacement parts.
Nicknamed the workhorse of austenitic heat resistant alloys RA330 has the ability to carry on no matter how harsh the environment. Suitable for use in most environments it offers high resistance to carburization and oxidation in temperatures reaching almost 2100 degrees F.
The popular Alloy 86 is different to other nickel alloys because it was created with good workability and weldability in mind. Created for use mainly in high temperature applications this nickel alloys offers high creep strength and incredible cyclic oxidation resistance to temperatures reaching 1050 degrees C.
Offering superior resistance to chloride pitting, crevice corrosion and stress corrosion cracking AL-6XN is a super austenitic alloy containing high levels of molybdenum. Highly resistance to corrosion this alloy is often used in pulp mill bleach plants and other chemical processing equipment across a range of industries.
For more information or to buy Nickel alloys then don't hesitate to contact us. Our experts are always on hand to provide you with expert knowledge and advice.