Pizza party at NeoNickel to celebrate a safety milestone!

The team at NeoNickel in Milton Keynes had a pizza party in October to celebrate 1000 days without an accident. It's a great achievement for us as a company – we work hard to ensure that we have a safe work environment.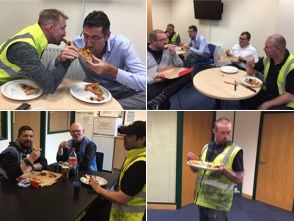 Our employees are committed to following the safety procedures that we have in place. We thought that such excellent teamwork should be rewarded with an excellent slice of pizza (or two). Our staff enjoyed tucking into their pizzas and there wasn't a crumb left in sight.
Well done to the team at Milton Keynes for all of their hard work. It's a fantastic milestone that we are certainly proud of – here's to many more accident-free days!